Shaklee Pure Performance Athletes are Sochi Bound!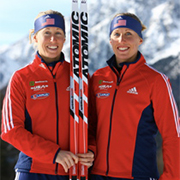 We're excited to be gearing up for Sochi with our Shaklee-sponsored Pure Performance Team! Over the years, Shaklee is proud to have fueled the dreams of many athletes. In fact, Shaklee-powered athletes have won over 100 medals at both the summer and winter Games.
We're proud to announce that a total of 19 Shaklee-powered athletes will be competing in the 2014 Games in Sochi! Shaklee products are powering our elite athletes and fueling their dreams from start to finish, so that they can train longer, recover faster and perform better to make their record-breaking achievements possible.
The Team has now expanded to more than 45 world-class athletes from a variety of sports, with more than 25 medals to their credit from recent Games. They are the best of the best, and all of them benefit from some of our outstanding Shaklee products including: Shaklee Vitalizer™, Vivix®, Shaklee Performance® pure hydration drink, Shaklee Energy™ Chews, and Shaklee 180®.
Shaklee would like to congratulate our Pure Performance Team athletes who have qualified for the Games in Sochi this winter, and introduce you to the members of our team.
–Lanny Barnes, Biathlon
–Kacey Bellamy, Ice Hockey
–Megan Bozek, Ice Hockey
–Craig Brown, Curling
–Erika Brown, Curling
–Brianna Decker, Ice Hockey
–Kris Freeman, Cross-country skiing
–Peter Frenette, Ski jumping
–Jamie Greubel, Bobsled
–Kelly Gunther, Long Track Speedskating
–Brian Hansen, Long Track Speedskating
–Jeff Isaacson, Curling
–John Landsteiner, Curling
–Brianne McLaughlin, Ice Hockey
–Jordan Malone, Short Track Speedskating
–Jilleanne Rookard, Long Track Speedskating
–Molly Schaus, Ice Hockey
–Curt Tomasevicz, Bobsled
–Jared Zezel, Curling
Here's where you can find Pure Performance athlete highlights and information to share:
Of special note is a terrific story of selflessness and sisterly love between two of our sponsored Pure Performance athletes, twin sisters Tracy & Lanny Barnes. Tracy made the ultimate sacrifice and now her story is being talked about around the world.
U.S. Biathlete Tracy Barnes was named to the Team; however, her twin sister Lanny fell ill during the trials and was unable to participate in enough of the races she needed to qualify. So, in honor of friendship, cooperation, and sacrifice Tracy declined her spot on the Team. This freed up a spot so that Lanny could be named to the Team.
Tracy and Lanny appeared recently on the Today Show to tell their story. Here is a clip to share:http://www.today.com/sochi/twin-whose-sister-gave-olympic-spot-her-she-shocked-me-2D11939811
Video – Best Person in Sports: Tracy Barnes - https://www.youtube.com/watch?v=-NSH0xYlRRw&cmpid=tsm%3Afscom%3Afoxsports1
More articles about Tracy and Lanny:
Share the excitement with everyone you know on Facebook, Twitter, in your emails and conversations! Be sure to "like", share, comment, and when sharing or talking about the athletes to use the hashtag #sochi2014!
Blackout Period for Sochi Games Begins January 30
We're excited about our Sochi-bound Pure Performance Team athletes, and until January 30, we want you to share that excitement with everyone, everywhere. But, after that date our wonderful athletes will no longer appear on our websites. Here's why you won't be seeing them in our communications for a while, and why we need your cooperation.
Rule 40 of the Olympic Charter limits participating athletes from appearing in "advertising" during and shortly before and after the Games. So from January 30 through February 26, 2014, Shaklee will not be using the names, images, and sports-performance results of the athletes who are competing at Sochi for any commercial purposes. It's critical that we comply with this rule, since failure to do so could result in sanctions for the Pure Performance athletes.
What this means is that for the duration of the blackout period, all promotion of and references to our sponsored athletes will be temporarily removed from our websites—and all social media, videos, banners, and other content that refers to them will be temporarily removed as well.
What we're asking you to do is also to refrain from using any of the materials that have been created by Shaklee Corporate—such as the Pure Performance video, banners, photography, or other content that has appeared on MyShaklee.com, in MyShaklee News, our Corporate Facebook page, the Shaklee Health Wise blog, Pinterest, or on the Athletes.Shaklee.com website—to express your enthusiasm about our athletes who are competing. It's OK to be enthusiastic! Just not OK to use our materials when you do.
Thank you for cooperating with this. We can't wait to watch our Pure Performance Team members compete, and we wish them all tremendous success in Sochi! We'll celebrate with you in March once the Rule 40 blackout period is over!